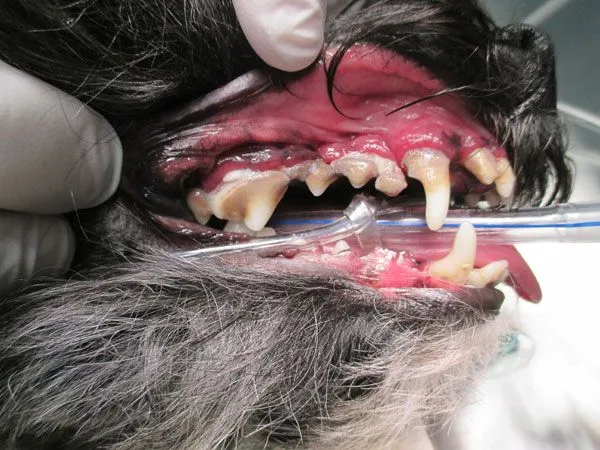 For most of us, caring for our teeth and gums has been part of our daily routine for as long as we can remember. The same should be true for our pets. Dental disease can be very painful, and if left untreated, it can have a significant negative impact on your pet's overall health and well-being. Fortunately, dental disease is preventable! Along with regular, professional care from a veterinarian, daily brushing and feeding special pet foods can help your pet maintain positive oral health.
Causes of periodontal disease
Plaque is a colorless film that contains large amounts of potentially harmful bacteria. If left unchecked, built-up plaque can create infection, destroying your pet's gums and the tissue and bone that support the teeth. Preventive oral care can reduce plaque and help maintain proper oral health.
Signs of periodontal disease
Once your pet displays the warning signs below, serious periodontal disease may already be present, so don't wait for them to appear. Start a veterinarian-supervised preventive dental care plan.
Bad breath
Yellow-brown crust on teeth
Bleeding gums
Change in chewing or eating habits
Tooth loss
Abnormal drooling
Contributing factors
Poor oral hygiene
ignoring the conditions of your pet's mouth can lead to, tooth loss and other serious health problems.
Breed
periodontal disease is more common in smaller breeds of dogs and certain breeds of cats.
Age
periodontal disease is more common as pets grow older.
Achieve better oral health
Proper oral care isn't just good for the mouth – it's good for whole body, too. Poor dental health, on the other hand, can put your pet's systemic health at risk.
Plaque builds up on a pet's teeth
Bacteria in the plaque irritate the pet's gums
The irritated gums bleed, allowing bacteria from the plaque to enter the bloodstream
Bacteria in the bloodstream travel throughout the body, and can negatively impact vital organs
Emerging science suggests a strong link between good oral health and heart health.
Pets with poorly maintained teeth and gums also run the risk of experiencing several other serious health problems:
Painful dental infections
Tooth loss
A taxed immune system, which limits a pet's ability to fight disease and infection
To reduce the risk of these problems in your pet, make sure to provide good dental hygiene. Talk to us for more information.
Pet Dental Facts
85% of all dogs and cats over 1 year old have some degree of periodontal disease
Periodontal disease is the most prevalent disease in both dogs and cats
In many cases, periodontal disease is preventable through appropriate plaque control
Plaque begins to accumulate within minutes of any dental cleaning
Bacteria from periodontal disease can spread through bloodstream and affect internal organs
Steps to better oral care
1. Visit your family veterinarian
Every regular exam in our clinic includes a through dental exam. If we find the signs of disease, we will recommend a treatment plan. It is important for the overall health of your pet that we take care of any dental problems we find. We will also recommend a home care plan that is a key part of keeping your pet healthy.
2. Start an oral care routine at home
plaque should be removed from your pet's teeth every day, before it mineralizes into tartar. Brushing your pet's teeth properly each day will remove plaque buildup. In addition, you can feed specially formulated foods that help reduce the accumulation of plaque and tartar from teeth. Ask us about the best method of home care for your pet.
3. Schedule regular dental checkups
we monitor the progress of your pet's preventive program, so regular dental checkups are essential, just as twice-a-year checkups are important for people. For pets that form tartar quickly or those with a history of oral problems, frequent examinations and cleanings may be advised.
Dental Care
Your pet may be showing signs of needing dental care. These signs can include: bad breath, red gums, excessive salivation, lack of energy and pain when eating. Even without signs, we strongly recommend dental care for your pet. It's a preventative healthcare measure, which contributes to your pet's long happy life.
Bacteria in the mouth can enter the bloodstream causing damage to vital internal organs. Sore gums can cause difficulty eating resulting in poor nutrition. Unhealthy mouths (as with any part of the body) reduces energy and overall vitality
Pet dental care is a bit more involved than typical dental cleanings for humans. This is what we do during dental cleanings to ensure the best care for your pet:
What's involved in a Dental Exam?
During the exam we look for; developmental abnormalities, the accumulation of plaque and tartar, periodontal disease and oral tumors.
Pre-Anesthetic Blood Screen
We make sure your pet is healthy before administering anesthetic.
Although complications resulting from modern anesthetic are rare, we need to be sure your pet is in good health. The blood test can also inform us of any effect to the organs that previous poor dental hygiene has caused.
Scaling and Polishing
We scale teeth to remove all tartar below the gumline because it's not just what you can see that can harm your pet, but also what you can't see.
Fluoride Application
Fluoride strengthens the enamel of the teeth.
It's important that you call us today to discuss when we should book a dental exam for your pet.
What can you do?
You are responsible for regular brushing and use of dental care products. We stock a variety of pet dental care products. It is important to use pet products and not products developed for human use. Maintain regular visits to your veterinarian for dental exams and get in a regular cycle of dental cleanings.